Alejandro
Luna
"El Charro"
Weight 135 lbs (61.36 kg)
Age 30
Home Bellflower, California,
Southern California native Alejandro Luna looks to rebound from his first loss as a pro and climb his way back towards a 135-pound title shot. Read Bio
Last Fight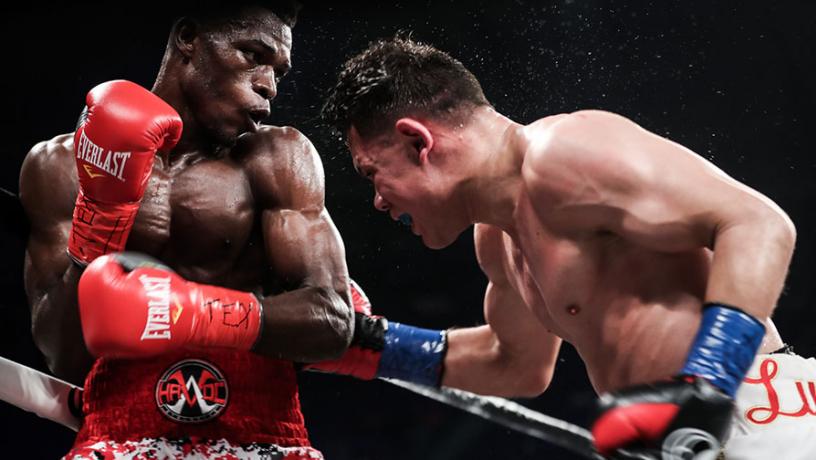 Mar 10, 2018 / The Freeman Coliseum, San Antonio, Texas
Alejandro Luna suffered the first loss of his pro career, falling to former title contender Richard Commey by sixth-round TKO.
Sign Up for
PBC

News

Get the latest fight announcements, fighter spotlights, and other PBC news delivered to your inbox.

Alejandro Luna News
Mar 8, 2018 / Alejandro Luna
The "Mexican Cowboy" faces toughest test of his career in Richard Commey, but knows a win could set up a future showdown with champions Robert Easter Jr. or Mikey Garcia.
Feb 12, 2018 / Mario Barrios, Alejandro Luna, Brandon Figueroa
Unbeaten 140-pound contender highlights the Showtime Extreme-televised undercard action March 10 on Mikey Garcia-Sergey Lipinets card from San Antonio, Texas.
Alejandro Luna Fights
LOSS

vs

Richard

Commey

24-0-0
Mar 10, 2018 • Freeman Coliseum, San Antonio, Texas, USA
Richard Commey WINS against Alejandro Luna by TKO in Round 6 of 12
Win

vs

Andrey

Klimov

19-3-0
Apr 09, 2017 • The Novo at L.A. Live, Los Angeles, California, USA
Alejandro Luna WINS against Andrey Klimov by UD in Round 10 of 10
Win

vs

Naim

Nelson

13-1-0
Aug 05, 2016 • 2300 Arena, Philadelphia, Pennsylvania, USA
Alejandro Luna WINS against Naim Nelson by UD in Round 10 of 10
Win

vs

Alan

Herrera

33-7-0
Jan 23, 2016 • Staples Center, Los Angeles, California, USA
Alejandro Luna WINS against Alan Herrera by RTD in Round 8 of 10
Win

vs

Sergio

Lopez

19-8-1
Aug 29, 2015 • Staples Center, Los Angeles, California, USA
Alejandro Luna WINS against Sergio Lopez by KO in Round 4 of 6
Win

vs

Cristobal

Cruz

40-16-4
Jun 06, 2015 • StubHub Center, Carson, California, USA
Alejandro Luna WINS against Cristobal Cruz by UD in Round 8 of 8
Win

vs

Sergio

Rivera

27-14-2
Mar 07, 2014 • Pala Casino Spa and Resort , Pala, California, USA
Alejandro Luna WINS against Sergio Rivera by KO in Round 1 of 8
Win

vs

Daniel

Attah

28-16-1
Oct 19, 2013 • Sports Arena, Pico Rivera, California, USA
Alejandro Luna WINS against Daniel Attah by RTD in Round 7 of 10
Win

vs

Christopher

Rivera

5-12-1
Aug 09, 2013 • Morongo Casino Resort & Spa, Cabazon, California, USA
Alejandro Luna WINS against Christopher Rivera by KO in Round 2 of 6
Win

vs

Sergio

Rivera

27-11-2
Jun 14, 2013 • Chumash Casino, Santa Ynez, California, USA
Alejandro Luna WINS against Sergio Rivera by TKO in Round 8 of 8
Win

vs

Mario

Hermosillo

11-8-3
Apr 05, 2013 • Chumash Casino, Santa Ynez, California, USA
Alejandro Luna WINS against Mario Hermosillo by UD in Round 4 of 4
Win

vs

Cesar

Garcia

5-13-1
Feb 22, 2013 • Morongo Casino Resort & Spa, Cabazon, California, USA
Alejandro Luna WINS against Cesar Garcia by KO in Round 6 of 8
Win

vs

Adolfo

Landeros

22-28-2
Oct 19, 2012 • Doubletree Hotel, Ontario, California, USA
Alejandro Luna WINS against Adolfo Landeros by UD in Round 6 of 6
Aug 10, 2012 • Morongo Casino Resort & Spa, Cabazon, California, USA
Alejandro Luna WINS against Eddie Ramirez by TKO in Round 6 of 6
Win

vs

Julio Cesar Mendoza

Rodriguez

7-7-0
Mar 16, 2012 • Morongo Casino Resort & Spa, Cabazon, California, USA
Alejandro Luna WINS against Julio Cesar Mendoza Rodriguez by KO in Round 4 of 6
Win

vs

Jose

Mendoza

7-4-0
Mar 16, 2012 • Morongo Casino Resort & Spa, Cabazon, California, USA
Alejandro Luna WINS against Jose Mendoza by KO in Round 4 of 6
Win

vs

Marcos

Herrera

6-7-1
Dec 30, 2011 • Morongo Casino Resort & Spa, Cabazon, California, USA
Alejandro Luna WINS against Marcos Herrera by UD in Round 6 of 6
Win

vs

Alejandro

Artiaga

3-2-0
Aug 19, 2011 • Convention Center, Riverside, California, USA
Alejandro Luna WINS against Alejandro Artiaga by TKO in Round 1 of 6
Win

vs

Cesar

Garcia

4-8-0
Jun 04, 2011 • Staples Center, Los Angeles, California, USA
Alejandro Luna WINS against Cesar Garcia by UD in Round 4 of 4
Win

vs

William

Fisher

0-1-0
Feb 12, 2011 • Finish Line Sports Grill , Pomona, California, USA
Alejandro Luna WINS against William Fisher by TKO in Round 3 of 0
Nov 19, 2010 • Convention Center, Riverside, California, USA
Alejandro Luna WINS against Miguel Nava by KO in Round 2 of 4
Win

vs

Ramon

Flores

3-7-1
Sep 11, 2010 • Convention Center, Riverside, California, USA
Alejandro Luna WINS against Ramon Flores by RTD in Round 1 of 4
Win

vs

Alejandro

Cortez

0-5-0
Jun 12, 2010 • Hollywood Palladium, Hollywood, California, USA
Alejandro Luna WINS against Alejandro Cortez by TKO in Round 3 of 4
Win

vs

Miguel

Oronia

0-1-0
May 08, 2010 • Palm Springs Stadium, Palm Springs, California, USA
Alejandro Luna WINS against Miguel Oronia by KO in Round 1 of 4
Alejandro
Luna
"El Charro"
Weight 135 lbs

(61.36 kg)
Born

October 17, 1991

Age

30

Country

USA

Born in

Bellflower, CA

Trains in

Bellflower

, CA
Stance

Orthodox

Rounds Boxed

111

KO Percentage

65.22%

Boxing Hero