Weight 168 lbs (76.36 kg)
Age 34
Home St Albans, Hertfordshire, GBR
A champion at 168 pounds, southpaw James DeGale is the first British boxer to win both an Olympic gold medal and a professional world title. Read Bio
Last Fight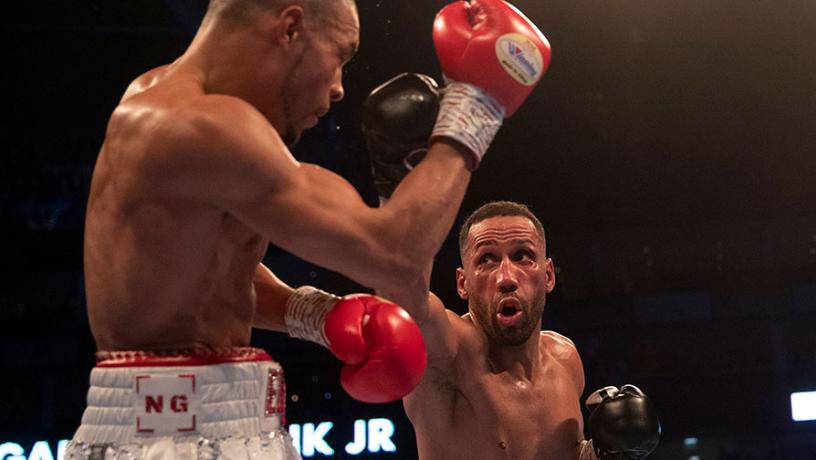 Feb 23, 2019 / O2 Arena, London, England
Former two-time World Champion James DeGale lost his grudge match to British rival Chris Eubank Jr. in the first PBC on ITV event in London.
Sign Up for
PBC

News

Get the latest fight announcements, fighter spotlights, and other PBC news delivered to your inbox.

James DeGale News
Feb 28, 2019 / James DeGale
The former two-time World Champion makes a statement on his retirement today from boxing—following a 10-year professional career where he became the first British fighter to win both Olympic gold and a world title.
Feb 28, 2019 / James DeGale
The former two-time Super Middleweight World Champion and British boxing legend is hanging up the gloves after a storied amateur and professional career.
James DeGale Fights
Feb 23, 2019 • O2 Arena, London, England
James Degale LOSES to Chris Eubank Jr by UD in Round 12 of 12
Win

vs

Fidel Monterrosa

Munoz

39-18-1
Sep 30, 2018 • Citizens Business Bank Arena, Ontario, California, USA
James DeGale WINS against Fidel Monterrosa Munoz by KO in Round 3 of 8
Apr 07, 2018 • The Joint at Hard Rock Hotel & Casino, Las Vegas, Nevada
Caleb Truax LOSES to James DeGale by UD in Round 12 of 12
Dec 09, 2017 • Copper Box Arena, Queen Elizabeth Olympic Park, Hackney Wick, London, United Kingdom
James DeGale LOSES to Caleb Truax by MD in Round 12 of 12
Draw

vs

Badou

Jack

22-3-3
Jan 14, 2017 • Barclays Center, Brooklyn, New York
Badou Jack DRAWS with James DeGale by MDR in Round 12 of 12
Win

vs

Rogelio

Medina

39-9-0
Apr 30, 2016 • DC Armory, Washington, D.C.
James DeGale WINS against Rogelio Medina by UD in Round 12 of 12
Nov 28, 2015 • Centre Videotron, Quebec City, Quebec, Canada
James DeGale WINS against Lucian Bute by UD in Round 12 of 12
May 23, 2015 • Agganis Arena, Boston
Andre Dirrell LOSES to James DeGale by UD in Round 12 of 12
Win

vs

Marco Antonio

Periban

20-2-1
Nov 22, 2014 • Echo Arena, Liverpool, Merseyside, United Kingdom
James DeGale WINS against Marco Antonio Periban by TKO in Round 3 of 12
Win

vs

Brandon

Gonzales

18-0-1
May 31, 2014 • Wembley Stadium, Wembley, London, United Kingdom
James DeGale WINS against Brandon Gonzales by TKO in Round 4 of 12
Win

vs

Gevorg

Sharoyan

20-0-0
Mar 01, 2014 • City Academy Sports Centre, Bristol, Avon, United Kingdom
James DeGale WINS against Gevorg Sharoyan by TKO in Round 11 of 12
Win

vs

Gevorg

Khatchikian

20-0-0
Mar 01, 2014 • City Academy Sports Centre, Bristol, Avon, United Kingdom
James DeGale WINS against Gevorg Khatchikian by TKO in Round 11 of 12
Nov 16, 2013 • Glow, Bluewater, Greenhithe, Kent, United Kingdom
James DeGale WINS against Dyah Davis by UD in Round 12 of 12
Win

vs

Stjepan

Bozic

26-6-0
Jun 08, 2013 • Glow, Bluewater, Greenhithe, Kent, United Kingdom
James DeGale WINS against Stjepan Bozic by RTD in Round 4 of 12
Win

vs

Sebastien

Demers

31-5-0
May 17, 2013 • Hilton Lac Leamy, Gatineau, Quebec, Canada
James DeGale WINS against Sebastien Demers by KO in Round 2 of 8
Win

vs

Fulgencio

Zuniga

25-6-1
Dec 08, 2012 • KC Sports Arena, Hull, Yorkshire, United Kingdom
James DeGale WINS against Fulgencio Zuniga by UD in Round 12 of 12
Win

vs

Hadillah

Mohoumadi

14-2-1
Oct 13, 2012 • Glow, Bluewater, Greenhithe, Kent, United Kingdom
James DeGale WINS against Hadillah Mohoumadi by UD in Round 12 of 12
Win

vs

Cristian

Sanavia

45-5-1
Apr 21, 2012 • Arena Nord, Frederikshavn, Denmark
James DeGale WINS against Cristian Sanavia by TKO in Round 4 of 12
WIN

vs

Piotr

Wilczewski

29-1-0
Oct 15, 2011 • Echo Arena, Liverpool, Merseyside, United Kingdom
Piotr Wilczewski LOSES to James DeGale by MD in Round 12 of 12
Loss

vs

George

Groves

12-0-0
May 21, 2011 • O2 Arena (Millenium Dome), Greenwich, London, United Kingdom
James DeGale LOSES to George Groves by MD in Round 12 of 12
Win

vs

Alpay

Kobal

7-12-2
Mar 12, 2011 • Braehead Arena, Glasgow, Scotland, United Kingdom
James DeGale WINS against Alpay Kobal by TKO in Round 5 of 8
Dec 11, 2010 • Echo Arena, Liverpool, Merseyside, United Kingdom
Paul Smith LOSES to James DeGale by TKO in Round 9 of 12
Sep 18, 2010 • LG Arena, Birmingham, West Midlands, United Kingdom
James DeGale WINS against Carl Dilks by TKO in Round 1 of 10
May 15, 2010 • Upton Park, West Ham, London, United Kingdom
James DeGale WINS against Sam Horton by TKO in Round 5 of 12
Win

vs

Matthew

Barr

14-5-0
Feb 13, 2010 • Wembley Arena, Wembley, London, United Kingdom
James DeGale WINS against Matthew Barr by TKO in Round 2 of 6
Win

vs

Nathan

King

12-14-0
Dec 05, 2009 • Metro Radio Arena, Newcastle, Tyne and Wear, United Kingdom
James DeGale WINS against Nathan King by PTS in Round 4 of 4
Win

vs

Ally

Morrison

2-0-1
Oct 30, 2009 • Echo Arena, Liverpool, Merseyside, United Kingdom
James DeGale WINS against Ally Morrison by TKO in Round 3 of 6
Win

vs

Ciaran

Healy

10-10-1
Jul 18, 2009 • M.E.N. Arena, Manchester, Lancashire, United Kingdom
James DeGale WINS against Ciaran Healy by TKO in Round 1 of 4
Win

vs

Jindrich

Kubin

5-0-0
May 15, 2009 • Odyssey Arena, Belfast, Northern Ireland, United Kingdom
James DeGale WINS against Jindrich Kubin by TKO in Round 1 of 4
Win

vs

Vepkhia

Tchilaia

9-8-0
Feb 28, 2009 • National Indoor Arena, Birmingham, West Midlands, United Kingdom
James DeGale WINS against Vepkhia Tchilaia by PTS in Round 4 of 4
Weight 168 lbs

(76.36 kg)
Born

February 03, 1986

Age

34

Country

United Kingdom

Born in

Hammersmith, London

Trains in

St Albans

, Hertfordshire
Stance

Southpaw

Rounds Boxed

210

KO Percentage

51.72%

Boxing Hero