Weight 140 lbs (63.64 kg)
Age 29
Home Lancaster, California,
Possessing both lights-out power and ring savvy, Los Angeles native Kevin Watts has demonstrated himself as a talent to watch at 140 pounds. Read Bio
Last Fight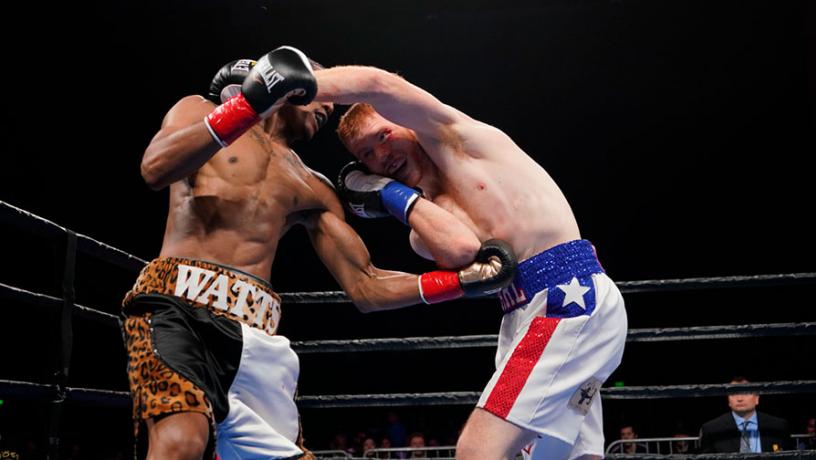 Jan 13, 2019 / Microsoft Theatre, Los Angeles, California
After defeating Ryan Karl by fifth-round TKO last April in Texas, Kevin Watts suffered defeat by the same outcome in their PBC on FS1 rematch in LA.
Sign Up for
PBC

News

Get the latest fight announcements, fighter spotlights, and other PBC news delivered to your inbox.

Kevin Watts News
Jan 2, 2019 / Guillermo Rigondeaux, Ahmed Elbiali, Ryan Karl, Kevin Watts
The two-time Olympic gold medalist from Cuba makes his PBC debut when he faces Mexico's Giovanni Delgado on the FS1 prelims of the Jose Uzcategui-Caleb Plant super middleweight title match from Microsoft Theatre at L.A. Live in Los Angeles.
Jul 11, 2018 / Dennis Galarza, Kevin Watts, Miller vs Galarza
A welterweight showdown between Cesar Barrionuevo and Abel Ramos, and unbeaten junior welterweight Juan Heraldez challenges Kevin Watts on the card from Sam's Town in Las Vegas.
Kevin Watts Fights
Jan 13, 2019 • Microsoft Theater, Los Angeles, California, USA
Kevin Watts LOSES to Ryan Karl by KO in Round 5 of 8
LOSS

vs

Juan

Heraldez

13-0-0
Aug 03, 2018 • Sam's Town Hotel & Gambling Hall, Las Vegas, Nevada, USA
Juan Heraldez WINS against Kevin Watts by UD in Round 10 of 10
Apr 28, 2018 • Don Haskins Center, El Paso, Texas, USA
Kevin Watts WINS against Ryan Karl by TKO in Round 5 of 8
Jun 11, 2017 • Pioneer Event Center, Lancaster, California, USA
Jose Miguel Borrego WINS against Kevin Watts by KO in Round 4 of 8
Sep 13, 2016 • Robinson Rancheria Resort & Casino, Nice, California
Eddie Ramirez WINS against Kevin Watts by KO in Round 7 of 10
Win

vs

Michal

Chudecki

11-1-1
Mar 15, 2016 • Robinson Rancheria Resort & Casino, Nice, California, USA
Kevin Watts WINS against Michal Chudecki by TKO in Round 5 of 8
Win

vs

Manuel Damairias

Lopez

9-1-0
Dec 03, 2015 • The Hangar, Costa Mesa, California, USA
Kevin Watts WINS against Manuel Damairias Lopez by UD in Round 8 of 8
Win

vs

Darnell

Jiles Jr

9-3-2
Sep 08, 2015 • Hollywood Palladium, Hollywood, California, USA
Kevin Watts WINS against Darnell Jiles Jr by KO in Round 3 of 6
Win

vs

Farkhad

Sharipov

4-1-0
Jun 11, 2015 • The Hangar, Costa Mesa, California, USA
Kevin Watts WINS against Farkhad Sharipov by MD in Round 6 of 6
Win

vs

Larry

Ventus

6-6-1
Aug 21, 2014 • The Hangar, Costa Mesa, California, USA
Kevin Watts WINS against Larry Ventus by UD in Round 6 of 6
Win

vs

Larry Darnell

Ventus

6-6-1
Aug 21, 2014 • The Hangar, Costa Mesa, California, USA
Kevin Watts WINS against Larry Darnell Ventus by UD in Round 6 of 6
Win

vs

Joaquin

Chavez

6-11-3
Apr 03, 2014 • Fantasy Springs Casino, Indio, California, USA
Kevin Watts WINS against Joaquin Chavez by UD in Round 6 of 6
Jan 24, 2014 • Fantasy Springs Casino, Indio, California, USA
Kevin Watts WINS against Julian Cruz by UD in Round 4 of 4
Win

vs

Alejandro

Arteaga

3-7-0
Dec 13, 2013 • Fantasy Springs Casino, Indio, California, USA
Kevin Watts WINS against Alejandro Arteaga by KO in Round 2 of 4
Win

vs

Alejandro

Artiaga

3-7-0
Dec 13, 2013 • Fantasy Springs Casino, Indio, California, USA
Kevin Watts WINS against Alejandro Artiaga by KO in Round 2 of 4
Win

vs

Alejandro

Arteaga

3-6-0
Oct 25, 2013 • Bing Crosby Hall, San Diego, California, USA
Kevin Watts WINS against Alejandro Arteaga by KO in Round 2 of 4
Win

vs

Alejandro

Artiaga

3-6-0
Oct 25, 2013 • Bing Crosby Hall, San Diego, California, USA
Kevin Watts WINS against Alejandro Artiaga by KO in Round 2 of 4
WIN

vs

Donte

Strayhorn

1-0-0
Jun 14, 2013 • Chumash Casino, Santa Ynez, California, USA
Donte Strayhorn LOSES to Kevin Watts by MD in Round 4 of 4
LOSS

vs

Paul

Malignaggi

36-8-0
Aug 01, 2003 • Hampton Beach Casino, Hampton Beach, New Hampshire, USA
Paul Malignaggi WINS against Kevin Watts by TKO in Round 6 of 10
Weight 140 lbs

(63.64 kg)
Born

April 30, 1992

Age

29

Country

USA

Born in

Los Angeles, CA

Trains in

Lancaster

, CA
Stance

Orthodox

Rounds Boxed

83

KO Percentage

31.25%

Boxing Hero