Highlights
–Leo Santa Cruz set a violent early tone, dropping Kiko Martinez twice with right hands in Round 1.

–Though Martinez continually pressed forward and got inside on his taller opponent, Santa Cruz punished him for the aggression, hammering him with 12 unanswered shots at one point in Round 3.

–Martinez proved himself to be a tough customer, even bloodying the champ's nose at one point, but he was simply outgunned by Santa Cruz, who earned a stoppage victory in Round 5 when referee Raul Caiz Sr. ended the fight.
It was a vintage look, the Leo Santa Cruz equivalent of bell-bottom jeans, ghastly pink leg warmers or some beloved old concert tee.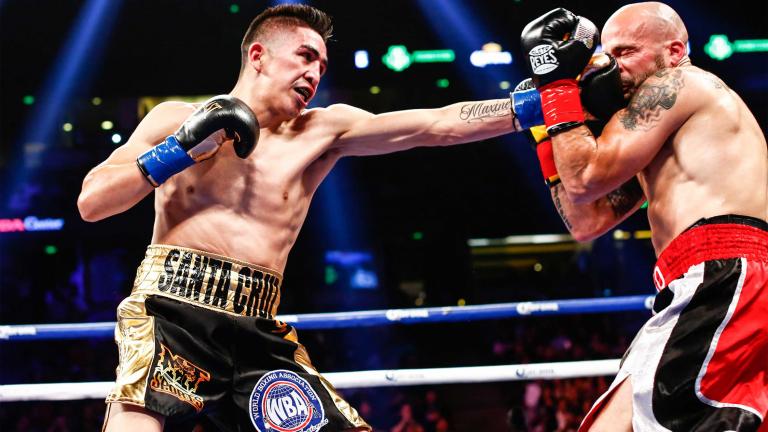 On Saturday, Santa Cruz defended his 126-pound title for the first time by turning in the kind of frenetic, defense-be-damned performance that made him must-see TV as a rising young fighter fond of blasting forth at a breakneck pace, like a Ferrari sans brakes.
From the opening bell, Santa Cruz overwhelmed iron-willed Kiko Martinez, a former 122-pound champion who came to fight until he had no more fight left in him. Referee Raul Caiz Sr. finally saved Martinez from himself in Round 5, stopping the bout and giving Santa Cruz a TKO victory.
Last time out, against former multi-division champ Abner Mares in August, Santa Cruz won the biggest fight of his career by displaying a different side of himself in the ring. Normally a dogged pressure fighter and high-volume puncher, Santa Cruz slugged it out with Mares early on before adjusting his strategy by relying on his height and reach advantages to box from the outside.
It was something Santa Cruz had seldom, if ever, done before, but it paid off, as the 27-year-old from Los Angeles skillfully working behind his jab to diffuse his bomb-throwing opponent.
Against Martinez, however, Santa Cruz returned to his old, breathless self, throwing a staggering 140 punches in Round 1 alone, willfully fighting on the inside against the shorter Martinez, seemingly intent on delivering a crowd-pleasing performance.
Santa Cruz pounced early, flooring Martinez twice in Round 1 with a straight right hand and a head-snapping right uppercut, respectively.
Martinez, though, was willing to take the punishment in order to mete out some of his own. And the 29-year-old native of Argentina who fights out of Spain successfully pressured Santa Cruz throughout the night, bullying him into the ropes and charging at him relentlessly.
The game, gritty Martinez worked well behind his jab and landed some nice uppercuts of his own, getting inside time and time again, and even bloodying Santa Cruz's nose. But Santa Cruz was simply too much, landing at will with just about every kind of shot imaginable—uppercuts, hooks, jabs, body shots, oh my!
At one point in Round 3, he rocked Martinez with 12 unanswered blows. By Round 5, Caiz Sr. had seen enough, stopping the scheduled 12-round bout after Santa Cruz cornered Martinez and ravaged him with a torrent of punches.
Martinez didn't protest. He came up empty, but not before valiantly emptying his tank in the process.