Highlights
–After relying heavily on his jab early, Lamont Peterson tripled up on his left hook in Round 7 as he began to attack the body of David Avanesyan.

–With both fighters taking turns teeing off on each other in a close fight, Avanesyan worked effectively from the southpaw stance in Round 9 as he followed his jab with straight lefts.

–Peterson capped a strong performance down the stretch in Round 12 as he unloaded punishing hooks to the body of Avanesyan in a bid for a late knockout.
Instead of performing like a guy who hadn't fought in 16 months, Lamont Peterson looked like a boxer ready to go 16 rounds with David Avanesyan.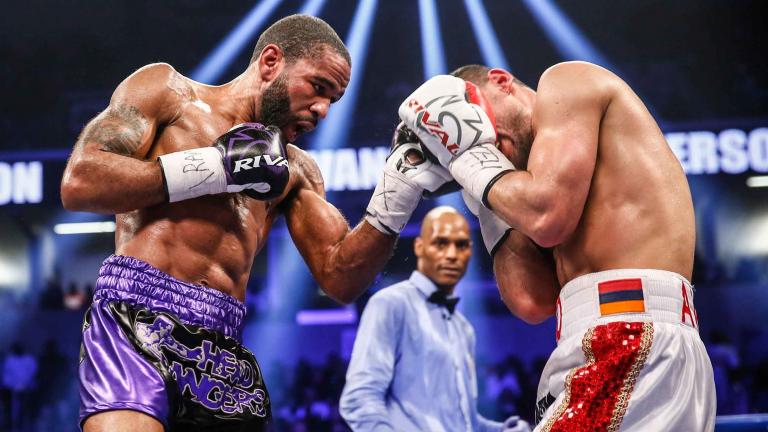 Ending a career-long layoff, Peterson appeared fresh and energized as he earned a unanimous decision over Avanesyan to win a 147-pound title and become a two-division world champion.
Fighting with increasing intensity in nearly every round, Peterson sustained a fierce body attack that wore down Avanesyan late in the bout.
The fight was essentially a toss-up after nine rounds, with Peterson ahead by one point on two of the scorecards and trailing by one on the other. However, the former unified 140-pound champion swept the final three rounds to prevail by margins of 115-113 and 116-112 twice.
It was the first time fighting at the 147-pound division limit for Peterson, but the 33-year-old Washington, D.C., resident seemed quite comfortable as he made himself a candidate to challenge the winner of next month's Keith Thurman-Danny Garcia title unification bout.
Peterson outlanded Avanesyan 228-182 in total punches and 188-156 in power shots. He was also more efficient, landing 31 percent of his punches compared to 24 percent for the 28-year-old Russian.
Peterson's precision and endurance were uncharacteristic for a fighter who hadn't competed in the ring since gaining a 12-round majority decision over Felix Diaz in a 144-pound fight in October 2015. But he showed no signs of being rusty from the opening bell as he worked behind his jab and lateral movement in the early rounds.
Fighting in the U.S. for just the second time in his career, Avanesyan suffered his first loss since dropping a six-round unanimous decision in his second professional fight to future title challenger Andrey Klimov in July 2009.
Throughout much of the bout's second half, the fighters engaged each other with their foreheads pressed together as they exchanged inside. While Peterson concentrated much of his effort on landing body shots, Avanesyan worked upstairs as he fired uppercuts and hooks to the head.
The Russian also had many effective moments as he switched from an orthodox to a southpaw stance throughout the bout. In the end, though, Avanesyan couldn't escape the tireless Peterson, who unloaded punishing hooks to the body in Round 12 in his quest for a late knockout.