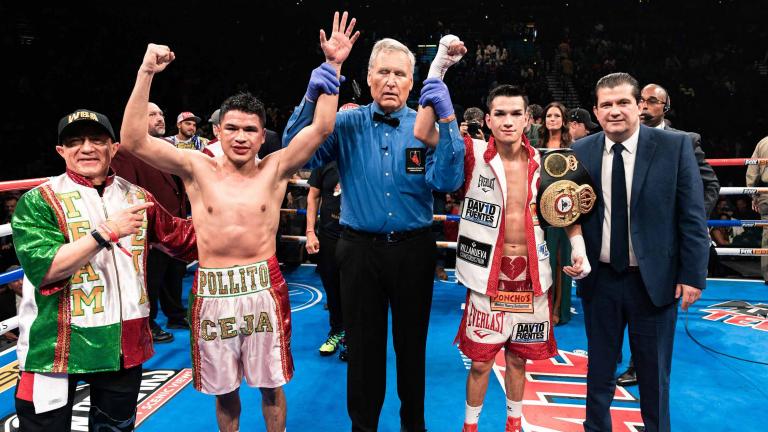 LAS VEGAS — The PBC on FOX PPV also featured WBA Super Bantamweight Champion Brandon "The Heartbreaker" Figueroa (20-0-1, 15 KOs) retaining his title with a split draw against former champion Julio Ceja (32-4-1, 28 KOs) after 12 rounds of action.
"I think I did win the fight," said Figueroa. "He put on a lot of pressure, but I fought better in the early rounds and I finished strong."
Figueroa started the fight in control, closing down the distance early and using his activity and combinations to take early control of the action. Ceja's strategy early was to counter his charging opponent, but he soon picked up the aggression to not allow Figueroa's offensive momentum to grow.
In the middle rounds, Ceja began taking control, landing the more powerful punches while Figueroa continued to come forward, but was not able to land anything that slowed Ceja's offense.
Figueroa was able to weather the storms in the middle rounds and make it to the late rounds where he again picked up the activity and body attack. He was able to bust Ceja's lip throughout the action, causing it to swell and bleed.
The punch output was impressive from both fighters, with their 784 combined punches landed good for the fourth most in super bantamweight history, while their 2,811 punches thrown were the second highest, according to CompuBox. Figueroa earned a narrow 411 to 373 advantage in punches landed.
After 12 rounds, the judges' totals were 115-113 for Figueroa, 116-112 for Ceja and 114-114, which resulted in the split draw decision.
"This fight is for all of you fans who came here to see me," said Ceja. "He was a man about it and he gave me the fight. I think I won, but I respect the judges' decision. I'll definitely run it back in a rematch."
Ceja was not able to win the title after failing to make the 122-pound limit at Friday's weigh-in.
"I basically fought a person in a weight class above mine tonight," said Figueroa. "I'm pretty sure if he weighed 122, it wouldn't even be a close fight. We have to run the rematch back but he better make the weight."