Highlights
–Robert Guerrero controlled the first four rounds with left leads, crosses and counters over his right jab, opening a third-round cut over the right eye of a retreating David Emanuel Peralta, who was rocked twice by left crosses in the fourth.

–Peralta turned up the pressure on Guerrero in the fifth through eighth rounds, then landed a big right hand in Round 9 that sent Guerrero falling into a corner. The turnbuckle was all that kept Guerrero's backside from hitting the canvas, but the tumble wasn't ruled a knockdown.

–Peralta continued to outbox, outslug and out-hustle a frustrated and fading Guerrero over the final three rounds on his way to an upset split decision victory.
Robert Guerrero began hearing whispers that he was washed up last June, when the former two-division champion had to rise from a fourth-round knockdown during a disputed split decision victory over Aron Martinez.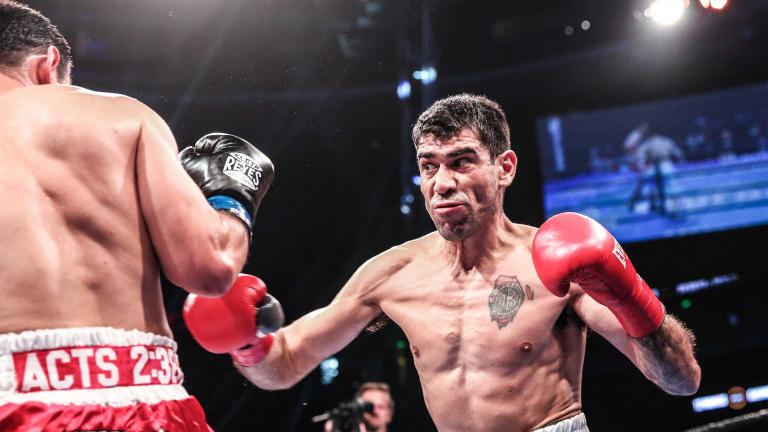 Those whispers very well may grow into shouts after David Emanuel Peralta's "Ghost-busting" performance.
Fighting for the first time outside of his native Argentina—and fighting for the first time in 15 months—Peralta (26-2-1, 14 KOs) out-hustled, outboxed and outslugged the man nicknamed "The Ghost" on his way to a shocking 12-round split decision victory.
A 33-year-old southpaw who was competing for the first time since a hard-fought unanimous decision loss to Danny Garcia for a vacant world title in January, Guerrero (33-5-1, 18 KOs) was nearly dropped in the ninth round and was generally beaten to the punch throughout the second half of the contest.
Two judges scored the bout 116-112 and 115-113 for Peralta, while a third had it 115-113 for Guerrero.
Guerrero yielded a two-inch height advantage to the 5-foot-11 Peralta, yet attacked from the outset, finding the head and body with left-hand leads, crosses and counters over double- and triple-jabs and occasional right hooks.
Even though Guerrero's punches had much more steam behind them, Peralta stood his ground and even forced the action at times in Round 2, when a counter right hand landed cleanly and earned his opponent's respect.
Guerrero regained momentum in the third, though, cornering and opening a cut over Peralta's right eye from a ruled punch, and twice wobbling his foe with hard left crosses in the fourth.
But Peralta's footwork and pressure frustrated an increasingly sloppy Guerrero down the stretch. The native of Cordoba, Argentina, jabbed and countered from distance with both hands over the course of the momentum-swinging fifth through eighth rounds.
Then in Round 9, he nailed Guerrero in the face with a big right hand that knocked the ex-champ into a turnbuckle. Although the corner was all that held up Guerrero, television replays seemed to show that Peralta's left foot had trapped Guerrero's right, potentially causing the latter's backward stumble just as the punch connected.
Knockdown or no knockdown, the damage was done, and Guerrero never regained his composure as he failed to adequately adjust to a sneaky right hand that Peralta landed seemingly at will.
With the stunning defeat, the fan-friendly Guerrero now finds himself at a career crossroads. In the lead up to Saturday's match, the native of Gilroy, California, stressed how eager he was to put on a dominant performance in order to remain relevant in the talent-rich 147-pound division.
Instead, it's Peralta—who entered Saturday just 5-2-1 in his previous eight contests and who had never before gone more than 10 rounds—who put his name on the 147-pound map by defeating by far the most accomplished opponent he's faced to date. And he did so just four days shy of his 34th birthday.