Minneapolis-native and welterweight contender Jamal "Shango" James (28-2, 12 KOs) returned from a 16-month layoff to thrill his hometown crowds and earn a unanimous decision victory after 10-rounds against Argentine Olympian Alberto Palmetta (18-2, 13 KOs) in the co-main event.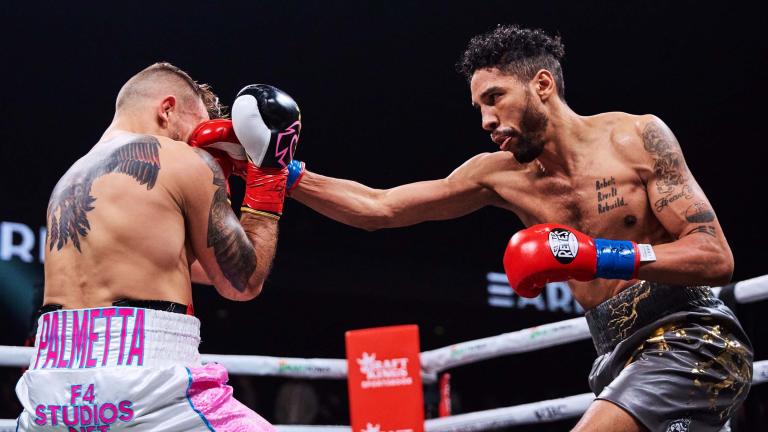 "I'm pretty sure everybody can see that layoff affected me," said James. "I had a lot of rust in me. My legs weren't sharp, my punches weren't sharp, but I'm glad I was able to get in there. I liked that because it's pushing me mentally and it made me step up to the occasion."
"I thought it was an even fight," said Palmetta. "I was the aggressor throughout against a former world champion, a taller opponent with longer reach than me."
In his first action since losing his WBA Welterweight Title to Radzhab Butaev in October 2021, James picked up his fifth career victory at the friendly confines of The Armory. Using his considerable height and reach advantage, James was able to control much of the action and contest the bout on his terms.
"I was trying to adapt," said James. "I definitely felt like I won the fight but I believe I could've done much better. I know that I'm a lot sharper. I know that my endurance is a lot stronger. I just had a lot of time off and my body is still getting back in shape. I'll be back for sure."
"I also like to counter, but I ratcheted up the pressure in the second half of the fight," said Palmetta. "Maybe it looked like Jamal James was superior in the first half because he kept being conservative and countering."
Palmetta had success countering James, but was unable to put together enough combinations or hurt James during the action. James' edge was reflected on the scorecards, as he out landed Palmetta 193 to 111, including a 153 to 102 edge in power punches.
James was also able to use a sharp body attack to keep Palmetta at bay, landing 68 throughout the fight, compared to just 20 from Palmetta. In round nine, a sharp right uppercut caused Palmetta to stumble and let to a raucous exchange that stirred James' hometown fans.
The crowd again rose to their feet as James and Palmetta whipped power punches throughout the final moments of round 10. James kept his perfect record at The Armory intact by wide scores of 99-91 and 98-92 twice.
"I know I can be a champion again because I was a champion before," said James. "I have to stay focused. Stay in the gym and back and study this fight – my last two fights – and step it up. Thanks to everybody in Minneapolis for coming and showing me love."