In a slugfest of a co-main event, power-punching Mexican Armando Reséndiz (14-1, 10 KOs) delivered a star-making performance, battering "Swift" Jarrett Hurd (24-3, 16 KOs) and spoiling the former unified 154-pound world champion's comeback fight.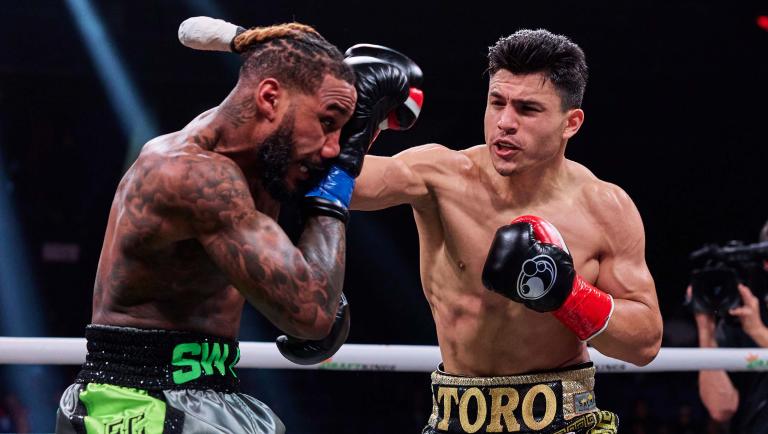 The ringside physician stopped the contest five seconds into the tenth and final round due to a severe laceration on Hurd's lip.
The determined Reséndiz outworked Hurd, landing 280 of his 780 punches thrown, the most connected punches of any Hurd opponent. In the spirited middleweight scrap, Hurd had his moments on the attack, connecting on 228 of his 562 (40 percent) punches thrown. However, Hurd, in his first fight in 21 months, was unable to overcome Reséndiz's pressure and volume punching. Reséndiz landed 206 power punches, eventually opening up a deep cut on Hurd's lip that caused the fight to end. At the time of the stoppage, Reséndiz was ahead on all three judges' scorecards.
"I was visualizing this fight for so long, how I was going to win this fight," Reséndiz said in the ring through SHOWTIME interpreter Felix DeJesus. "It was all about heart, but I know I can be even better and you'll see what I mean in my next fight. I told everyone I was willing to go to war, I'm Mexican, after all. It was a strong, physical fight just like we expected. The results speak for themselves."
Hurd tried working his jab early, landing a total of 27 jabs in rounds three and four, but fighting for just the third time in over three years, Hurd faded as the rounds went on. In rounds six through nine, Reséndiz landed 106 power punches while limiting Hurd to 69 landed power punches.
"I knew this was going to be a tough, toe-to-to fight based on our styles," said the 32-year-old Hurd, who lost inside the distance for the first time in his career. "But I only had to make it one more round. I wish I could have finished it, but my lip was cut too bad. So, congratulations to Reséndiz. I definitely wish I could have continued. At no point was I hurt at all in that fight, but I have to respect what the doctors say and there's nothing I can do about it."