"We went in there to feel him out and box him and beat him to the punch with counters because of his strength," said Lubin. "It was working all night. I was sticking and moving. It was 'Boxing 101'."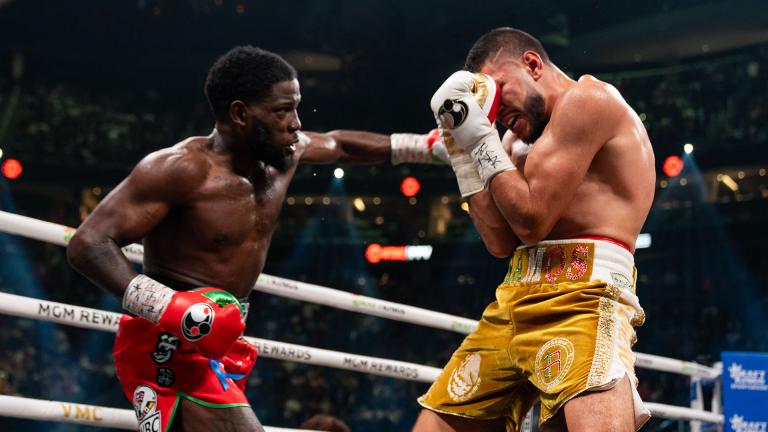 "I felt like I did a little more than him, but that's alright," said Ramos. "Congratulations to Erickson Lubin. He was sharp. He had a good game plan. Congratulations to him, it's back to the drawing board. We'll come back."
Having previously lost a pair of fights to Jermell Charlo and Sebastian Fundora, Lubin put himself back into contention for another world title fight with the win on Saturday. The 27-year-old's success came largely off the back foot as he frequently allowed Ramos to come to him and walked him into counter shots.
"My jab was landing all night," said Lubin. "He had all his success when I was on the ropes. My coach was telling me to stay off the ropes, so I was trying my best to do that. He didn't show it too much, but I buzzed him a few times."
Although Ramos held a 145 to 92 edge in punches landed, the judges appeared to favor the defensive work and consistent jab (378 thrown to 274) of Lubin. Although disappointed in the result, Ramos expressed an eagerness to learn from the experience post fight.
"I felt like I was just trying to show different dimensions to my game and not just come forward," said Ramos. "It is what it is. I'll take this loss, come back and learn from it. I learned not to let it go to the judges. Maybe I don't put it on cruise control next time. A little more pressure. I'll learn from this. It was a good experience."
Buoyed by the decision victory, Lubin was adamant about his place in the stacked 154-pound division and his belief that he should be fighting for a world title sooner than later.
"This shows that I'm no gatekeeper," said Lubin. "I'm one of the top dogs in the division. I need a title shot. If those belts present themselves at 154 pounds, I'd like to fight for those belts."