Minneapolis' adopted son and rising phenom David Morrell, Jr. showed flashes of his superstar potential, bloodying and battering mandatory challenger Aidos Yerbossynuly over 12 rounds before closing the show in emphatic fashion to defend his WBA Super Middleweight Title Saturday night via KO in the main event of action live on SHOWTIME.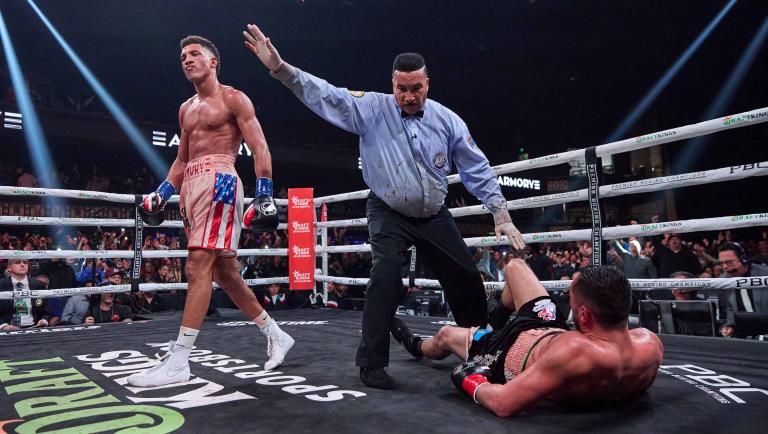 "Thank you everybody in Minnesota for coming to support me," said Morrell, who predicted an eighth-round KO during Thursday's final press conference. "Thank you to my family, my team, everybody. I'm so excited, man. I told everyone at the press conference that the fight is mine. I saw he was hurt at that moment and then the results came in, that knockdown came. A knockout is a knockout, so if it's in the eighth or 12th round, it's a knockout anyways."

Ahead 110-99 twice and 108-101 entering the final round, Morrell (8-0, 7 KOs) wasn't satisfied with just winning on the scorecards, as he pressed to extend his four-fight KO streak and put an exclamation mark on his performance. With just forty seconds left in the fight, Morrell did exactly that. The 24-year-old Cuban, who now lives and fights out of Minneapolis, flattened Yerbossynuly (16-1, 11 KOs) with a straight left hand followed by a right hook, sending the lively crowd at The Armory into a frenzy. It was the second time in the round that Yerbossynuly was dropped after a straight left hand sent him to the canvas for the third time in his career.

In a fight where over 1,100 combined punches were thrown, the southpaw Morrell, who showed a diverse offensive arsenal and also dazzled with his flashy footwork and defense, landed 39 percent of his punches and 47 percent of his power punches. He landed 64 more jabs and 91 more power punches than the game Yerbossynuly, who showed both skills and guts. Morrell's 54 body punches landed was also a career-high.

"I don't think anyone is scared of me, I respect everyone in this division," said Morrell, looking ahead to what could come next. "I do know they are aware of me. They know exactly who David Morrell Jr. is and that he's coming for it all. I want David Benavidez, but I don't care. I'm ready for everybody."

Following the bout, Yerbossynuly was taken to Hennepin County Medical Center for evaluation.