Highlights
–After a measured first two rounds, Darwin Price followed up a double jab with a powerful right hand that sent Javontae Starks to the canvas in Round 3.

–Price continued to pepper Starks with the jab into the middle rounds, working beautifully off his back foot against his opponent, who was unable to make adjustments.

–In the seventh, Price followed another crisp double jab with a straight right that stunned Starks, who was unable to hold off Price's attack before the fight was stopped at the 1:52 mark.
Darwin Price stayed true to his jab against Javontae Starks, and in return it stayed true to him.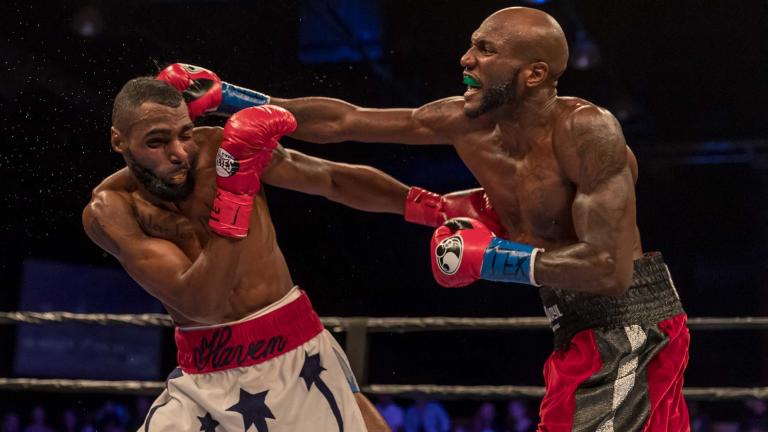 Working consistently behind his piston-like left hand, Price was able to follow up with power shots as he earned a seventh-round TKO in a 142-pound battle of prospects.
Price (11-0, 6 KOs) frustrated Starks (13-2, 7 KOs) throughout the scheduled eight-round bout with his jab, which he effectively doubled up to set up combinations.
After a measured first two rounds in which both boxers threw almost nothing but jabs, Price loaded up a right hand behind a pair of jabs to knock Starks to the canvas in Round 3.
From there, Price continued to use his bread and butter to score consistently and was in full control of the contest heading into the seventh round. That's when the St. Louis native who now fights out of Houston landed another crisp double jab followed by a straight right that hurt Starks, who immediately tried to hold on.
Knowing he had his opponent in trouble, Price began throwing wildly with both hands in an attempt to finish off Starks, who was pinned against the ropes.
Price, 27, then connected on a straight right that stunned Starks and began to dial in with both hands. Once again, Starks held on, leading referee Mark Calo-Oy to briefly separate the fighters. Seconds later, though, Calo-Oy stepped right back in to stop the fight at 1:52 of the round.
Price, who was a star distance runner at Grambling State University for four years before starting his pro boxing career, earned his first stoppage since July 2015, having won his last two fights by eight-round unanimous decision.
Meanwhile, the loss was the second straight for Starks, who was fighting for the first time in more than 300 days since dropping an eight-round decision to Samuel Figueroa on October 30 in Orlando, Florida.