Eddie Ramirez entered his second career main event looking to accomplish two things: remain undefeated and treat the fans to another action-packed performance. He ended up nailing one of those goals—but thankfully for Ramirez, it was the most important one.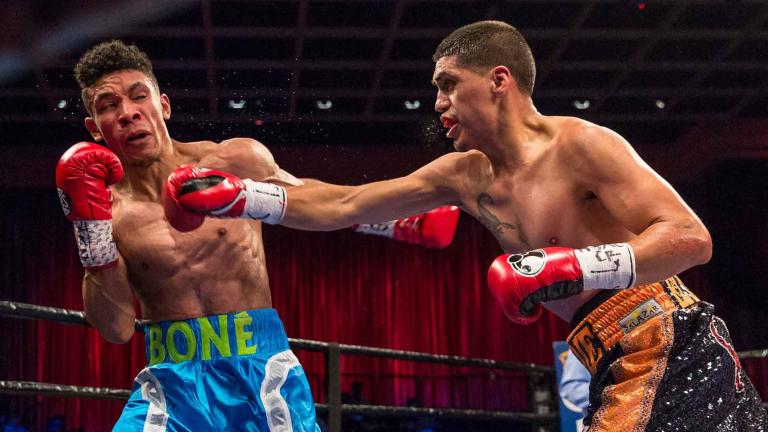 Coming off exciting stoppage victories in his previous two fights, Ramirez didn't find a willing dance partner in Erick Bone in their 143-pound showdown in Las Vegas. But while Ramirez didn't get an opportunity to engage in a firefight with Bone, the 25-year-old Aurora, Illinois, native did put on a solid enough performance to earn a 10-round split decision.
All three judges scored the fight 97-93, with Adalaide Byrd giving the nod to Bone, only to be overruled by Tim Cheatham and Glenn Trowbridge, both of whom saw it in favor of Ramirez.
Ramirez pressed the action for much of the bout, landing his jab to the head and body while walking Bone down to set up crisp power shots.
Bone proved an elusive target, though, fighting off his back foot and relying heavily on his counterpunching. Those punches misfired often, however, thanks to Ramirez's impeccable defense.
Although Ramirez was the more aggressive fighter from the opening bell, the 2013 Chicago Golden Gloves champion and national runner-up trailed on two of the official scorecards through five rounds. Ramirez started to have more success in the latter half of the fight by cutting off the ring and bullying Bone to the ropes.
As the fight progressed, though, Bone's backpedaling increased to the point that Ramirez twice paused in Round 9 and banged his gloves against his body in frustration, as if to tell the 28-year-old Ecuadorian, "Come on, man—stand and fight!"
Bone lost his fourth straight fight, with the previous three defeats coming against former world champions Miguel Vazquez, Chris Algieri and Shawn Porter.