With the words "ice water" and "shock the world" etched on his trunks, O'Shaquie Foster produced the fight of his life, coolly and methodically out-boxing two-division world champion Rey Vargas to capture the vacant WBC Super Featherweight World Championship in his first title shot live on SHOWTIME.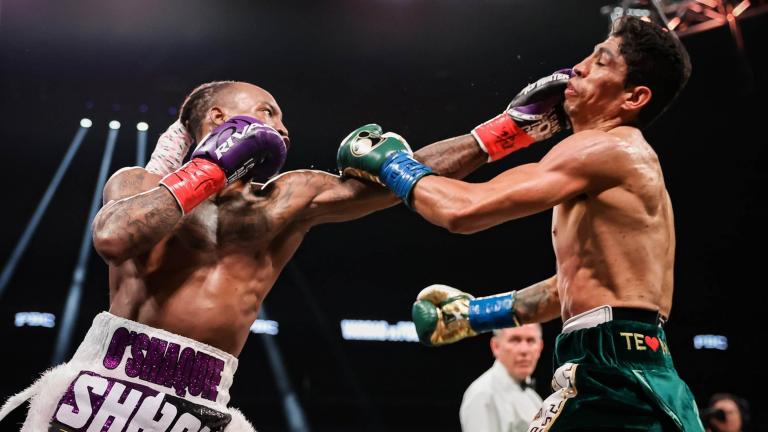 Foster, who normally switches to southpaw in his fights, fought orthodox for the entire 12 rounds with the objective of befuddling Vargas, as he won by scores of 116-112, 117-111 and 119-109 in a dominant, albeit very competitive win.

"I can't put it into words (what this means)," Foster said in the ring afterward. "I know my mom, my uncle, my grandpa, they are all looking down on me."
Foster, a veteran of four SHOBOX: The New Generation bouts®, has overcome countless hardships in his life, including the death of his mother to cancer when he was 12. He lost a decision in just his ninth fight on SHOBOX and dropped a split decision three fights later. But Foster fought confidently and relentlessly on Saturday, as if he was the undefeated fighter entering the fight, peppering Vargas with jabs and out-working him in the later rounds. With the win, Foster became the 88th SHOBOX alum to win a world title.

According to CompuBox, Foster threw 101 more punches than Vargas and landed 43 more shots (22 more jabs and 21 more power punches). In the championship rounds, with Foster's trainer Bobby Benton asking him to close the show, Foster out-landed Vargas 32-10 to secure victory.

"It feels great," Foster went on. "Dedication, hard work. I have a great team around me. Getting away from the distractions and preparing myself mentally and physically. My preparation was very important. I saw a lot of tape. I threw combinations. I knew that he counter reacted to previous opponents. I tried to switch up my technique.
"My coaches kept telling me to pick it up, we are ready to go. We can't get them out, but I felt good in the later rounds. I just wanted to make sure it wasn't a close fight. I didn't think it was close. My coaches kept telling me not to let off the gas. I'd love to unify [the division]. I'll face anybody."

Vargas, who disputed the decision, indicated that he will drop back down and campaign at 126 pounds, where he still holds the WBC belt. "We didn't get the decision at super featherweight," Vargas said, "but we are still champions at 126."

Foster, who has fought at 130 pounds or heavier for most of his career, stunned Vargas with a left a minute into the 11th, as swelling under Vargas' eyes was evident. Vargas landed a three-punch combination midway through the ninth as he began to fight with desperation. But Foster answered with a short right hand that seemed to buzz Vargas.

Vargas sustained a small cut over his left eye after Foster landed a snappy right hand and the two clashed heads moments later with a minute left in the third. Foster caught Vargas with a jab to the body to start the second that caused Vargas to fall to the canvas, but the referee ruled it a slip as Foster stepped on Vargas' foot during the sequence.

"I respect the judges," Vargas said in the ring. "I think this decision was not fair. I don't agree with it, but I have to respect it. I thought it was much closer than they saw. The weight difference may have affected me tonight. In boxing, you can use your legs to be technical or use them to run. Foster used them to run. He ran all night.
"There was a headbutt at the beginning of the fight that affected my sight for a second, but I recovered quickly. I thank all the fans that came out to support me."
Vargas fought without a familiar face in his corner as legendary trainer Nacho Baristain was absent for this assignment as Vargas' father Carlos took his place. He was trying to join other legendary fighters who have won titles at 122, 126, and 130, which include Manny Pacquiao, Leo Santa Cruz, and Mexican legends Erik Morales and Marco Antonio Barrera.

Vargas was returning to the Alamodome after winning the WBC featherweight championship in his last bout with a decision victory over Mark Magsayo at the same venue on SHOWTIME last July.