Rising contender Brian Mendoza scored a career-defining upset win in emphatic fashion, blasting out the previously unbeaten Sebastian "The Towering Inferno" Fundora in round seven to capture the Interim WBC Super Welterweight Title live on SHOWTIME Saturday night from Dignity Health Sports Park in Carson, California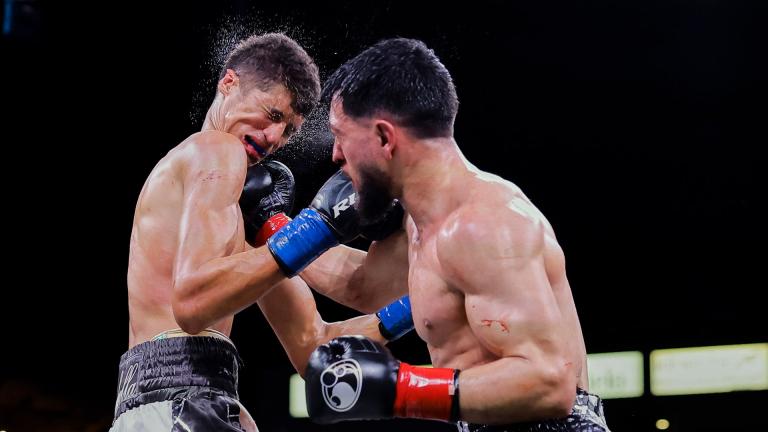 "I never quit," said Mendoza. "I kept going. You can beat me all you want, but if you don't kill me, I'm coming back. They didn't kill me in my career and it's too late now, I'm getting better each time. I want to thank Fundora for taking this fight. He didn't need to take it. It was really risky for where he was at."
"I'm good, for one second I turned off but I guess that's boxing, it happens," said Mendoza. "You just get caught with a punch. I did some punching and then I got caught you know. He was throwing that overhand right all night and I was dodging and dodging, but in boxing the second you fall asleep, you get punished."
Having scored back-to-back knockouts to earn this fight, Mendoza (22-2, 16 KOs) connected on a picture-perfect left hook early in round seven that badly hurt Fundora (20-1-1, 13 KOs), and followed up with a powerful left-right combo that put Fundora down for good.
"I told you guys I wasn't just a strong puncher," said Mendoza. "I was a strong puncher for those rounds that he was catching me. I hesitated, but I saw he was open so I had to head in for the kill because I knew he wasn't gonna stop coming either. This is my moment, this is my time. I predicted everything that was going to happen in my past two fights and how they were going to end and everything."
Mendoza, an Albuquerque, New Mexico-native who now trains in Las Vegas with coach Ismael Salas, looked to show his boxing ability early and kept his distance from Fundora while peppering body shots. As the fight progressed, Mendoza looked to try to close down the distance and keep Fundora from gaining leverage on his punches, but was met with a consistent rhythm of uppercuts.
The Fundora attack caused blood to start coming from Mendoza's nose in round five, as it appeared the previously unbeaten fighter was on his way to wearing out another opponent with a non-stop onslaught of power punches. The overall CompuBox stats saw Fundora out-land Mendoza 100 to 62 while also leading 60-54 twice and 59-55 on the cards at the time of the stoppage.
After the fight, Mendoza was emotional following his career-best victory and saw the win as a culmination of his comeback following losses earlier in his career.
"I started losing a couple rounds but I didn't care," said Mendoza. "You'll never see me give up. I would've given up years ago when I took some losses. I kept on sparring and look at me now. A year ago I was a swing bout after the main event, nobody cared who I was or what I was doing, this is proof. You keep working, you're going to make it!"
"It was a good punch," said Fundora. "I didn't recognize that moment, but I'm fine. I'm healthy now, and I'll be back. I'll be back to take over the division and this is a step up and a step down. It happens, but I'll be back. I'm not sorry I took this fight, this is boxing. We gotta fight and we have to make these good fights. Congratulations to Brian Mendoza, he did his thing, but like I said, I'll be back."