Turkish Olympian Ali Eren Demirezen (17-1, 12 KOs) scored a career-best victory via a unanimous decision (97-93 twice, 96-94) over Polish star and Brooklyn fan-favorite Adam Kownacki (20-3, 15 KOs) after 10 rounds of heavyweight action.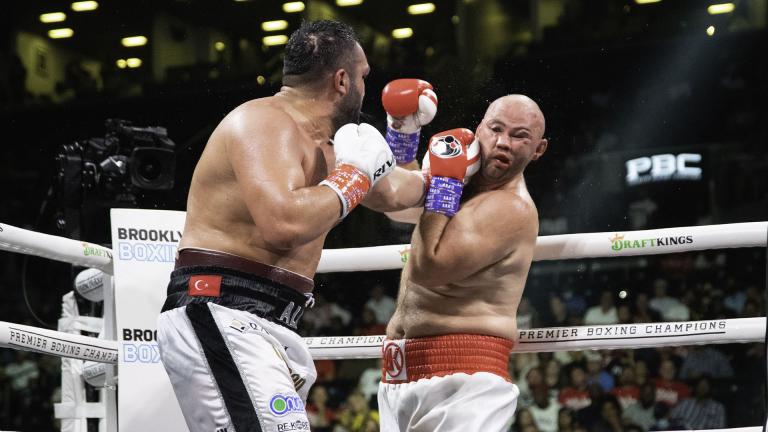 "I truly love fighting in the U.S. and I love New York so I said before you will see me more," said Demirezen. "I was nervous because he's a strong fighter and I could have been much better, but it's my first time here and he'd fought here before."
In his 11th fight at Barclays Center, Kownacki rode the urging of his hometown fans to a fast start as he targeted Demirezen's body frequently in round one. As the bout progressed, Demirezen flipped the script and ended up being the more aggressive fighter, throwing 915 punches to Kownacki's 851, while landing 239 power punches compared to Kownacki's 186.
After back-to-back losses to Robert Helenius, Kownacki had hoped to return to the win column and back to his standing amongst the heavyweight contenders, but was turned back by the determined Demirezen, who stopped Gerald Washington in January.
"I'm a bit rusty, I think he was getting off first in the exchanges, I didn't' sit down as much, I think the rust played a part, being out so long," said Kownacki. "I was out of the ring since last October, camp was good but I don't know, I was letting him get off first, I wasn't moving my feet. I went back to the old me instead of the first few rounds when I was doing good.
"I have two kids, I'll have a long talk with my wife to see what I want to do. I've had so many fights here, so many great memories, I don't want to go out like a loser. I would like another fight to leave my fans with a win."
In round 10, Kownacki, with blood dripping from his left eye, again was able to bring his legion of fans to their feet as he put together a courageous effort in rocking Demirezen with a right hand, forcing Demirezen to temporarily fight on his back foot. However Demirezen recovered to win the round, and sweep the last two rounds on all three cards to clinch the victory.
"I promised everyone a war, and that's what the people got," said Demirezen. "I beat him in his hometown. I want to be an inspiration and a role model for Turkish youngsters that were watching this fight. I hope I made them proud."