A 12th-round knockdown helps Jarrett Hurd secure his 154-pound title unification victory over Erislandy Lara.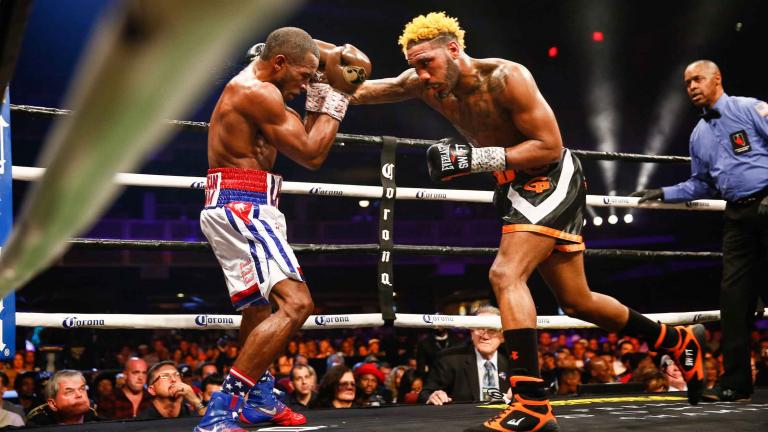 Jarrett Hurd unified the 154-pound division with a 12-round split-decision victory over Erislandy Lara in an all-action fight Saturday on SHOWTIME before a sold out crowd of 2,579 at The Joint at Hard Rock Hotel and Casino in Las Vegas.
Hurd (22-0, 15 KOs), who entered as IBF Champion, dethroned WBA Champion in just the seventh unification in division history. The difference in the Fight of the Year candidate was a short left hook that floored Lara in the final minute of the fight. Had the 27-year-old Hurd not scored the knockdown, the fight would have been ruled a majority draw.
"It was a tough one, but I went out there and did exactly what I said I was going to do - fight all 12 rounds and get the victory," Hurd said. "I didn't feel like that (I needed the knockdown). I feel like I was in control the whole fight, applying the pressure.
"I don't think it had anything to do with age. I think it was me and the game plan we had to apply the pressure."
Following the thrilling bout, SHOWTIME Sports reporter Jim Gray asked Hurd if he'd like to face WBC 154-pound champion Jermell Charlo, who was ringside, to further unify the division.
"'Swift' isn't ducking anyone," Hurd responded. "I'm No. 1 now. We're calling the shots."
Hurd applied relentless pressure from the opening round, pressing forward against the crafty southpaw. He pounded the body, yet often neglected defense and ate punishing counter shots for 11 rounds.
But the difference for Lara (25-3-2, 14 KOs), who was making the seventh defense of his title, was the brutal 12th round. With blood seeping from a swollen right eye, Hurd connected on a short left hook that floored Lara for the first time in nearly five years.
"Besides the last round, I thought I was winning this fight easily," Lara said. "That's not to decide the fight. I was winning the fight. One punch in a fight doesn't determine the fight.
"It was a great fight for the fans. I stood there, fought and it was fun. I thought I clearly won the fight. Once again a decision goes against me, but hey we just have to do the rematch."
Entering the fight, Charlo was the consensus No. 1 fighter at 154-pounds. He stated his case for a chance to unify against Hurd.
"I'm down. Let's go. We want that work," Charlo told SHOWTIME CHAMPIONSHIP BOXING host Brian Custer. "I feel Hurd only took the fight with Lara because he realized the harder fight is with Jermell Charlo.
"We've been there before with Lara. I know what he possesses. Hurd has to get his defense together because he cannot get hit like that by me. Lara doesn't move like he used to. If he moves like he used to he wins that fight."