In an all-action affair, Alberto Puello and Batyr Akhmedov produced one of the better and compelling fights of 2022, but it was Puello who made history for his country, becoming the first Dominican fighter to ever win a title at 140 pounds by claiming the vacant WBA Super Lightweight World Championship in the co-main event by split decision.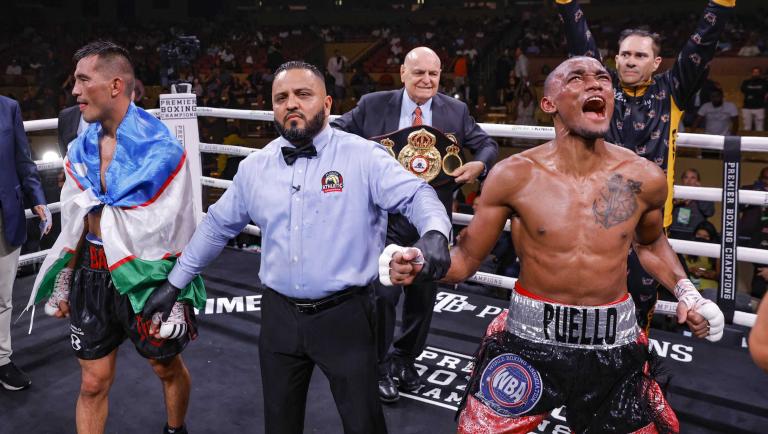 The judges Benoit Roussel and Mark Streisand both scored the bout 117-111 for Puello, while Lisa Giampa awarded Akhmedov's aggression with a scorecard of 115-113.
Puello (21-0, 10 KOs) was able to handle the constant pressure of Akhmedov, who came up short for the second title fight of his career after he lost a decision to Mario Barrios in 2019. Puello was able to fight well off the ropes and answer the advances of Akhmedov (9-2, 8 KOs) with stinging combinations. Puello joined his countrymen Hector Garcia, who dethroned Roger Gutierrez for a 130-pound championship earlier in the evening, to produce arguably the greatest day in the history of Dominican boxing with two title winners. The two are good friends, both sharing the hometown of San Juan de la Maguana in the Dominican Republic.
Puello was the busier fighter, out-throwing his opponent by a margin of 825 to 764, but Akhmedov out-landed him 207-191 and had a 198-168 edge in power punches landed.
"This was the hardest fight of my life, but the one I prepared the most for," Puello said in the ring. "I do feel a lot of emotions, and two Dominicans were crowned champions on the same night. This win means a lot to me. This is a big thing for us Dominicans because my friend Hector Garcia and I are bringing two titles back home. My hometown, San Juan de la Maguana, has already started the party and they are waiting for Garcia and I to come back and join them."
With the word "shark" stitched onto his shorts, Akhmedov marched forward round after round, attacking Puello's body and raining down punches. Puello, for his part, was content to counter with uppercuts and winging shots as the two fell into a frenetic rhythm for 12 punishing rounds. Akhmedov had Puello retreating in the sixth as he dug body shots, but Puello landed perhaps his signature punch of the night, a bruising uppercut in the eighth that snapped Akhmedov's head back as Puello seemed to sit down more on his punches in the second half of the fight. Fittingly, the bout ended with both fighters standing toe-to-toe, exchanging violent combinations as the bell ended the entertaining slugfest.
"I mixed it up, sometimes counterpunching and some other times coming forward," Puello said. "What I studied from the gym and from the videos, I knew he would apply pressure. But I was actually surprised with the amount of pressure he started with and in the end I was able to figure him out. I knew it was a close fight, and I just kept the distance and kept the pressure on the jab tonight and that helped me get the victory."