Former unified heavyweight world champion Andy "The Destroyer" Ruiz Jr. scored three knockdowns on his way to a unanimous decision victory over top contender Luis "King Kong" Ortiz in their WBC Heavyweight Title Eliminator that headlined a FOX Sports PBC Pay-Per-View Sunday night from Crypto.com Arena in Los Angeles.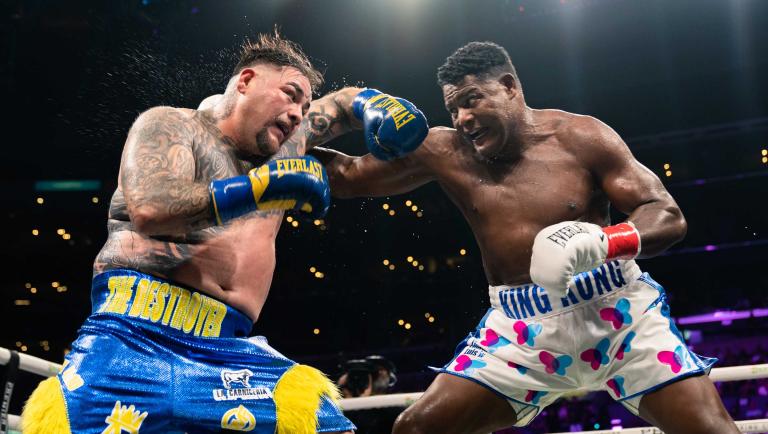 "Everyone was doubting me, but I worked so hard for this fight," said Ruiz. "Ortiz is a warrior who hits hard. I did a beautiful job boxing him around. I showed more class than I usually do just coming forward."

The first fighter of Mexican descent to become heavyweight world champion, Ruiz (35-2, 22 KOs) got his hometown crowd on its feet early, as he delivered a clean right hand to score his first knockdown in round two. Ortiz (33-3, 28 KOs) would hit the canvas a second time in the round, but got to his feet again and delivered several strong left hands to keep himself in the fight and make it through the round.

"I told you I was going to be a warrior and that's what I did," said Ortiz. "This is Cuba vs. Mexico. This is what I live for. To everyone who said that I'm old, I gave you a war today. There are always surprises in boxing, and that's what you got if you didn't think I'd give it my all."

Ortiz got himself back in the fight over the subsequent rounds with impressive boxing as he relied on his jab and movement to keep Ruiz from inflicting further damage. In round seven however, Ruiz struck again, backing his opponent up with a straight right before moving close and dropping Ortiz with an overhand right.

"It was a difficult fight," said Ruiz. "I was waiting for him to load up and countering him when he did. It was a blessing we were able to be successful."

Despite Ruiz pushing forward, Ortiz again used his excellent boxing acumen to remain in the fight. Ortiz even owned a slight 78-76 edge in punches landed according to CompuBox, but it was Ruiz's 67 power punches to Ortiz's 56 that made the difference. After hurting Ortiz again in round 11 and winning the round on all three cards, Ruiz was able to hold off a late charge from Ortiz to edge the fight on the judges cards by scores of 114-111 twice, and 113-112.

After the fight, Ruiz stated his willingness to meet former WBC Heavyweight World Champion Deontay Wilder in a possible blockbuster showdown, if Wilder is successful in his ring return October 15 against Robert Helenius on FOX Sports PBC Pay-Per-View. Wilder, who was seated ringside, matched Ruiz's enthusiasm for the potential matchup.

"If Deontay Wins in October, me and him are with the same management and we can make this fight happen," said Ruiz Jr. "Let's do it. Let's get it on. I'm hungry and I want to be champion again and bring that belt back to Mexico."

"Deontay Wilder is back and I'm always looking for great exciting fights for the fans," said Wilder. "If Andy Ruiz Jr. is what's next, then I'm ready to get it on."